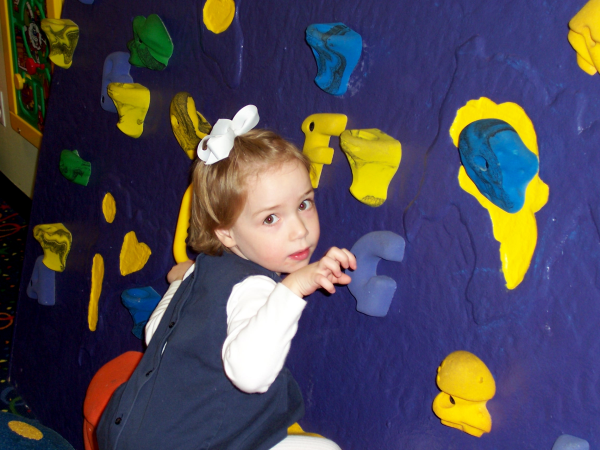 By: Debi Pillarella, M. Ed., C.P.T.
Here's the Scoop on Toddler Fitness:
Kids between the ages of two and five years old need social, physical and intellectual interaction and development. These years are often called the "building block" years, as they lay the foundation from which subsequent skills will grow. Free play, exploration, creativity, song, and exposure to a variety of experiences is critical. Ever wonder why kids at this age can't seem to sit still? They're learning about their bodies and how to control them in the space they live. Instead of resticiting this, confining them to the couch with a video game, or enrolling them in extensive structured activities, channel the energy in a positive way and watch your children soar!
Free play
Catching objects (beanbags, scarfs, playballs, etc)
Rolling objects
Bouncing a ball
Kicking a ball
Tossing/throwing a ball
Hitting a larger stationary ball (on a T) with a bat
Jumping
Running/Walking/Jumping/Hopping/Galloping/Skipping
Walking a line
Pedaling a bike
Using imaginative or thematic play
Following sample directions
Cooperative games
Non-competitive relays and sports
Emphasis on fun and play
Restrictive Play
Sitting Still for long periods of time
Overuse of motorized toys
Competitive team sports
Emphasis on winning and hardpaly
Negative comments, criticizing, comparing skills of children
To gain more information on wellness for kids, A few great websites are:
www.ada.com
www.eatright.com
www.nutritionforkids.com
www.kidsfit.com