This article is part of Michigan Nightlight, a series of stories about the programs and people that positively impact the lives of Michigan kids. It is made possible with funding from the W.K. Kellogg Foundation. Read more in the series here. See Below for source information, for full story, visit: Second Wave Media
A teacher gathers her class into a circle in the classroom and leads a discussion on a topic such as their favorite memories. For students with trauma in the class, this relationship building exercise can mean the difference between staying in class and being expelled.

Research has shown that temporarily removing students from school doesn't work. Students are just as likely to exhibit the same behaviors upon returning to the classroom. And behavioral issues at school, even as early as kindergarten can disrupt learning. That's why new practices such as the relational restorative circle are being implemented in a growing number of classrooms across the nation, including in Battle Creek.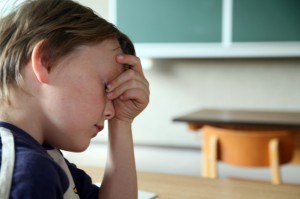 Recent discoveries in neuroscience demonstrate that repeated childhood trauma (or adverse childhood experiences) can disrupt brain development and effect changes both at the biological and psychological level.

For the last few years, many educators and mental health professionals in Southwest Michigan have seen childhood behaviors that seemed clearly related to childhood stress, such as bolting from the classroom, tipping over desks, covering their ears, or verbal and physical conflicts with fellow students and adults.

By 2014, the behaviors were identified as trauma-related by the United Way of Battle Creek and Kalamazoo Regions, which began incorporating a trauma-informed approach into all of its early childhood and educational grants and programs.

In the last couple of years, the issue of childhood trauma has gained national attention, but the Battle Creek Public School District has been ahead of the trend.

Since 2014, BCPS has gradually adopted a three-tier system for building community, resolving conflict, and creating resiliency in its students who may have experienced repeated trauma. The district is beginning to experience some success.

"It comes down to the one big basic: it's all about the relationships," says Wes Seelye, BCPS Coordinator of Grants and Federal Programs. "It's about building, maintaining and bridging relationships once they break down because of conflict. When you have those relationships, students are much less likely to act up within your classroom. And when there are conflicts, as there always are, you are much more likely to resolve them."

Over the past four years, BCPS, with the support of several grants from the UWBCKR and the W.K. Kellogg Foundation, among others, has incorporated a three-pronged approach to restoring resiliency in children and the school community. The programs are provided by Griffin Place, STARR Commonwealth's National Institute for Trauma and Loss in Children, and the National Equity Project, which helps the district promote an equal education for every child. Seelye sees these three strategies as complementary.

Gryphon Place of Kalamazoo has been working with the district to train educators in restorative work based on the model of healing broken relationships by mending conflict through peer mediation, relational restorative circles, which are daily group moments for positive sharing, and restorative circles for dealing with classroom conflict.

"The idea is you have a relationship that has been broken in some way, typically by conflict," said Seelye. "What do you need to do to restore this relationship? You need to make sure that both sides are heard so the relationship can heal."

The relational restorative circles allow students to get to know each other and create a sense of community, while restorative circles help students address conflict by being heard. The restorative work ties in well with trauma-informed practices.

"Trauma-informed work starts with the relationship piece," said Seelye. "That's why these programs work so well together. When you have students who are coming to you with trauma, you have to respond from the relationship viewpoint with a non-emotional approach. You need to always come back to that same calm, consistent approach."

Much of the current national interest in childhood trauma was inspired by the Adverse Childhood Experiences (ACE) study sponsored by Kaiser Permanente's Health Appraisal Clinic and Centers for Disease Control and Prevention (CDC) that determined there was a significant correlation between childhood stress and the likelihood of adult issues, including substance abuse, mental health, suicide, illness, and homelessness, among others.

Many institutions, like NTLC through Starr Commonwealth which provides training to BCPS educators, have been addressing these trauma and loss issues regarding children for decades.

"We're providing anybody who works with kids and families the information that they need to identify adverse childhood experiences," says Dr. Caelen Soma, Executive Director of NTLC. "The tools we provide help interrupt that cycle of trauma and create more resiliency in children and families. The application piece is so huge. We say, here are things you can do tomorrow, in your moment-to-moment interactions with kids. You can really be a change agent once you understand how trauma interacts with the brain and the body."

The training tools offered don't just help educators deal with trauma-related behavioral issues, but they help build up resiliency in youngsters by fostering empowerment.

"For children especially, it's not enough to process the hurt, worry, anger," says Soma. "We need to provide these kids experiences of joy, of empowerment so they can get more of those. If your brain doesn't have repetitive experiences of feeling empowered, confident, and that you're good at something, you don't even know how to get more of it."

Even in educational programs at colleges and universities, awareness of how trauma affects childhood behavior in classrooms is growing, says Dr. Regena Nelson, Chairperson of the Department of Teaching, Learning and Educational Studies at Western Michigan University. In coordination with UWBCKR and STARR Commonwealth, WMU began offering trauma training to pre-service teachers seeking education degrees in 2015.

"For a teacher, at first it's just understanding the types of behaviors they are seeing and identifying which ones are trauma-related," says Nelson. "The techniques you learn about creating a safe environment for your students will be helpful to everyone, such as minimizing distractions and chaos.

"For some students, this is really important. If they are already worked up and come into an environment that is chaotic, it will set off behaviors that are negative and create all sorts of problems."

Many teachers are relieved to understand that the behaviors they are dealing with are not the result of disobedience. Knowing how to identify escalating behaviors improves their ability to prevent crisis.

"You are watching that child for signs and cues before they get to that point where things might get out of control," says Nelson. "I think teachers have been afraid that if they offer preventative options that they are being too soft. They wonder 'what will the other kids think when I'm allowing this child to go in the back of the room and read a book?' Now they are learning this is OK."

Soma agrees that trauma-informed classroom practices integrate well with successful classroom management skills. "Instead of saying to teachers, 'scratch everything that you've done, we're doing something new,' we're just building on already strong classroom skills. Now they can take what they know works and then tie it back to the neuroscience. They recognize, 'Oh, the kid can't hear me when I'm talking to them, but if I get close and crouch down and use a strong, soothing voice, then I get their attention.'"

This summer, in a partnership between Lakeview Public Schools and BCPS, Starr Commonwealth will offer a "Train the Trainers" program within the districts because the districts recognize sustainability is an essential part of continuing the trauma-focused process.

"We will provide coaching and identify some key champions that we have within those schools," Soma says. "Those educators will then be able to train new staff every year about childhood trauma and building resilience."

While it's too early yet for conclusive results, Seelye says that BCPS is discovering "pockets of success" in their district through the implementation of its trauma-informed strategies.

"The classrooms where they are having those daily circles, where teachers are exhibiting consistent non-emotional responses when relationships do experience conflict, we're seeing less disruption, less suspension, less exclusionary practices. That's what we want to build upon."

To raise public awareness of how to build resiliency in schools, a screening of "Paper Tigers" will take place May 3 in Battle Creek, followed by an open discussion with Soma that evening. The film focuses on a Washington state school that is experiencing a lot of success after having implemented trauma-informed practices.

*******Starr Commonwealth also will shortly be releasing two books, 10 Steps to Creating a Trauma-informed School and Healing from Trauma, which will be available on its website. Theresa Coty O'Neil is a Kalamazoo area freelance writer. Her articles have appeared in many local publications and her short stories have been published in Alaska Quarterly Review and West Branch, among others. Marty Blackwell is a freelance illustrator and designer in the metro Detroit area. Her work can be found here.